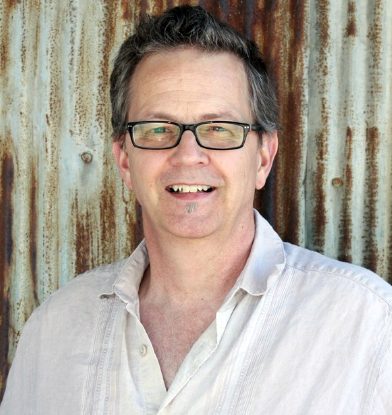 Todd Engel is an award-winning graphic designer with vast experience in the world of advertising, publishing and communications. With a focus on book cover design, Todd receives raves from Booklocker authors both on his creative designs and his customer service. He has designed book covers and marketing materials for some of the nation's leading speakers and authors.
Todd started his career as an advertising assistant at the corporate offices of Fruit of the Loom, to which he would add…"Yes, I did dress up in a grape costume once for a parade!" as one of the characters in the infamous "Fruit of the Loom" talking fruit ads. Still early in his career, Todd worked for two leading advertising agencies. "I loved working on the Opryland Showpark account and even got to ride on the General Jackson showboat on its maiden voyage into Nashville."
"What I like most about working with the BookLocker authors is the personal interaction with new authors and their fascinating stories and bios. It really makes me wish I had time to read every book. For years my creative talents focused on both large and small corporations. I love using my talents to help launch authors in their exciting journeys into publishing."
NOTE: When non-BookLocker authors approach Todd directly, he charges $1,000 and up for the same service he provides to BookLocker authors for $250 (original paperback cover design) and $350 (for original hardback cover design). BookLocker authors get a fantastic deal because we send him so much business! And, he loves our amazing authors!
Unlike the "other guys," when you order cover design services from BookLocker.com, YOU own the rights to your cover!
Todd lives with his wife, Camille, in Tennessee.
Samples of Todd's work:
Also, see the covers at the top of THIS PAGE.
You can request Todd as your cover designer during the sign-up phase of your project!
---
TESTIMONIALS
I received and approved the book cover. What an outstanding job Todd has done. I couldn't be happier. Needless to say it has my full approval.
– L. E. Muesch
Dreaming on Paper
Coming March, 2020!
Hi Angela,
I just wanted to tell you (you probably already know) that I approved Todd's book cover. I am writing to let you know how incredibly grateful I am to have had the opportunity to work with Todd again. He is THE nicest person. He took to heart and then elevated my concept, giving me another winning cover that I can be proud of.
– Pamela Allegretto
and
You've hit the nail right in the head! Your design is exactly the simple, conservative look I hoped for. Magic! I am more than delighted. The traditional colour, with the hint of suggestive white shading is so appropriate it made my wife and I gasp. And your amalgamation of two separate sentences to one phrase, then moving it to the top of the narrative shows your appreciation and complete sensitivity to the contents of the book – you have summed up the book perfectly.
Thank you.
– Keith Hancock
Once again, you have enhanced perfectly my vision of what my two books could look like (actually better). Thank you so much. Even without reading the words, just holding the books in my hand, seeing how they compliment one another, makes me so proud. You, Angela and the entire crew did that for me and I will be forever grateful.
– Ellen W. Marin
You work has exceeded every expectation I had for a cover. You gave my book, power and presence. I cannot adequately thank you for your effort and hard work. 
– J. Dentico
Throttle Up: How to Accelerate The Impact of 21st Century Leadership
Todd, I have a message for you! I wrote the book on Therapeutic Touch for which you recently designed the cover. I gifted the founder of Therapeutic Touch with a copy of the book. She is 97 years old. She was totally charmed by your beautiful cover and she wanted me to let you know that the cover is drawing the attention of everyone who sees it! I am having the same experience – people see the cover and their first comment is how beautiful the cover is!
– Maria Arrington
Reflections on the Art of Therapeutic Touch
Todd did a spectacular job with the cover – its stunning design has already drawn rave reviews from friends and foes alike.
– Steve Legomsky
The Picobe Dilemma
I really wanted to thank that Fantastic Artist (Todd, the cover designer) that sent me the pictures and took my suggestion to create an Unbelievable cover design.
– Tom McGoy
Our Great Journey: A Love Story
Todd created a FANTASTIC cover. I'm really thrilled with it–he was also fantastic to work with. I've been passing on the BookLocker name to all the folks I can! You folks are gems.
– Erica Golden
Resumes that Hack the Job Hunt: Write Resumes That Get Results Right Now!
I am also grateful to Todd Engel for his patience and for designing the perfect cover. Certainly I look forward to working with you again when I complete my next novel. You are all amazing!!!
– Pamela Allegretto
Bridge of Sighs and Dreams
I was looking over my absolutely awesome cover just now and I wanted to thank you so much for making this process so simple for people like me. I was so worried because up to this point, "Self-Publishing" has been everything but!
I'm just so fortunate that I read reviews and saw that everyone recommended BookLocker. Rest assured that I will be joining the ranks of those satisfied customers.
– Eric Burkhart
Mukhabarat, Baby! Mortars, WMD, Mayhem and Other Memoirs of a Wartime Spy
Your communication, to walking me through the whole process, including my beautiful book cover, and now to the end, my first copy. Stellar work across the board.
Thank you!!!
– David Armstrong
Dragons & Violins: A Memoir of War & Music
It came out beautifully! I couldn't be more pleased, particularly with the cover.
– Ken Jasper
Voices of Babylon
Todd communicated daily as we discussed the merits of the cover design and back cover verbiage. I can't believe how fast the process was compared to what other POD publishers are advertising. The quality of the book blew me away. It's second to none! Why would anyone look anywhere else! You're the best.
– Thomas Reed
The Adventures of Jimmy Holiday
The cover design is AMAZING!!!!!!!!!!!!!!
– Barry Moffitt
Tactical Freedom: The PTSD Offensive
OMG, I love you! Your work is amazing, Todd!!!!! THANK YOU!!!!!!!!!!!! THIS really makes me excited about my book… You have great magic! You have no idea how much your design lifted my heart! Really, you have the ability to translate a "feeling" into words. I call people like you "weavers," pulling the ethereal into physical form in such a beautiful way, it lifts people's eyes upward to believe something else is possible. They use their gifts in all elements, in your case, font, position perspective, and color to light us up. I really don't know how I got to be so lucky to work with  you.
– Joy Osaka-Lu