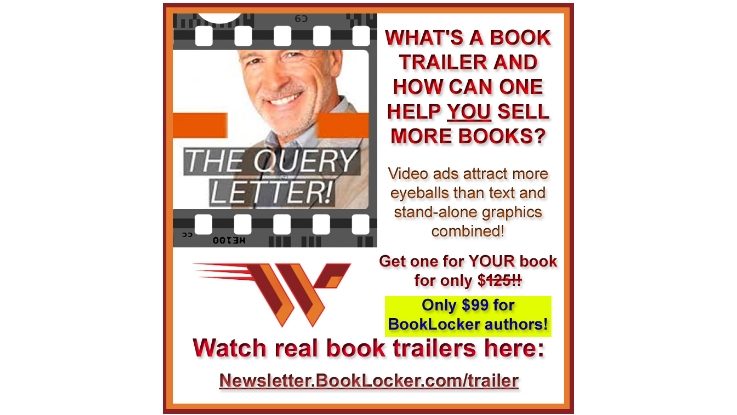 What's the #1 way to attract eyeballs online so you can sell more books?
HINT: It's not from posting your book cover on social media!
Click on the videos below for book trailer samples!
---
See even MORE book trailers RIGHT HERE!
---
PRICES
SHORT BOOK TRAILERS (5 frames)
PUBLISHER DIRECTED: $125 $99 for BookLocker authors!
AUTHOR DIRECTED: $175 $150 for BookLocker authors!
ORDERING INFO. IS BELOW. 
---
5 FACTS ABOUT VIDEO ADVERTISING
According to dreamgrow.com:
1. 65% of people are visual learners
2. 90% of the information transmitted to the brain is visual
3. Visual information is processed 60,000 times faster than text
4. 64% are more likely to buy a product online after watching a video
5. Video increases customer conversions by 80%
Animated videos:
1. Keep viewers' attention longer than text and stand-alone graphics
2. Help the brain simplify complex topics
3. Induce nostalgia, creating a personal connection between the customer and the business
4. Get more social media shares than text and static images combined!
Fact: According to transformationmarketing.com, and many other sources, people love videos with puppies! We're not trying to be funny. It's the truth! If you want us a put a puppy in your video, just say the word! We could look at puppy videos all day long! 😉
---
PRICES
SHORT BOOK TRAILERS (5 frames)
PUBLISHER DIRECTED: $125 $99 for BookLocker authors!
AUTHOR DIRECTED: $175 $150 for BookLocker authors!
Your book trailer will consist of 5 screens (that means 5 photos and/or videos appearing one after the other). Each screen, featuring either a video or a photo along with text, will last 3 to 10 seconds (depending on how long it takes the average person to read the text on that particular screen). Your finished book trailer will be approximately 25 to 40 seconds long.
Additional screens are $25 each depending on which service you chose above. If you opt for additional screens, we will send you an order form for that after discussing your needs. 
Our current turn-around time on videos is two weeks. However, do not delay if you want to order a book trailer because we expect a large response to this sale. 
After you place your order, we will send you information on exactly what we need from you. Our current turn-around time on book trailers is one week.
---
We're excited about creating a beautiful book trailer for you to use on social media, on your website, on YouTube, and anywhere else you choose!
---
BOOK TRAILERS
A book trailer is a short promotional video (a commercial!) featuring videos, graphics, and music, intended to catch the attention of potential readers, and compel them to buy your book. Book trailers are far more effective than text or even graphic stand-alone ads to get someone's attention!
Your book trailer will appear on YouTube, of course, and you'll be able to upload it to Facebook, Twitter, Instagram, and other social media platforms. In addition, you can, of course, post it to your own website, and give other people permission to post it as well. We will not only send you the YouTube link, but will also provide you with a copy of your book trailer file to do with as you wish. Book trailers for BookLocker authors will appear on BookLocker.com as well.
---
DESCRIPTION OF BOOK TRAILER SERVICES
PUBLISHER DIRECTED
We have found that allowing us to choose the videos and photos for your book trailer is a fast process, and the author is usually thrilled with the results. The author will provide the text for each frame of the trailer. Publisher-directed book trailers provide the fastest turn-around. Authors have one opportunity to request changes to text and graphics. Additional change requests are $25 per round of changes. Once a video is finalized and approved, it can't be changed. If an author wants a new book trailer in the future, one will need to be ordered. Non-BookLocker authors will need to provide us with a 300-dpi version of their book's front cover. For BookLocker authors, we, of course, already have those.
AUTHOR DIRECTED
Author provides photos or video(s). We are happy to incorporate stock photos and stock videos along with author-provided ones! Photos and videos must be 300 dpi and square. Square book trailers are more viewer-friendly, and work across all platforms, while landscape videos do not, particularly on Instagram. Of course, you must own the rights to use any images, videos, or audio files you send to us.
We are flexible, of course, but book trailers should not be longer than one minute. In the fast-paced world of the Internet, viewers get frustrated if they have to wait too long for information.
---
Payment can be made via Paypal to angie@writersweekly.com.
We're excited about creating a beautiful book trailer for you to use on social media, on your website, on YouTube, and anywhere else you choose!
---
Why Book Trailers Are So Affordable! 
1. You do NOT need motion picture clips, car crashes, bombs, and the like to get someone's attention. You simply need:
A. Moving pictures (video and/or alternating graphics) that provide an eye-catching background
B. Initial text that "hooks" the viewer, and additional text that promotes your book
C. Music that creates the mood you want to invoke in your audience
2. You do NOT need to hire professional actors, nor have voice-overs, to get viewers' attention. There are endless varieties of stock photos and stock videos available (at no additional charge) to save YOU money!
---
Do NOT spend thousands on a book trailer! You can get just as many people to view a video (like the ones above) to promote your book for FAR less than the "other guys" are charging.
COMPARE:
BookLocker: $125 Prices start at $99 for current BookLocker Authors!
Outskirts Press: $229 (30-second video only)
Dog Ear Publishing: $999
AuthorHouse, Trafford, and Xlibris: $2199
Balboa Press, Lulu, and Westbow Press: $3199
The following publishers do not offer book trailer services:
Amazon KDP/CreateSpace
BookBaby
Breezeway Books
Fast Pencil / Infinity Publishing
Mill City Press
iUniverse
Xulon Press
Wheatmark Publishing
---
We're excited about creating a beautiful book trailer for you to use on social media, on your website, on YouTube, and anywhere else you choose!
---
TESTIMONIALS
WOW! PERFECT! Even I want to buy this exciting book 🙂
Susan Bodinet
Dangerous Secret
https://booklocker.com/books/10830.html
---
Thanks Angela, You really nailed it. I can't wait until (my wife) gets home and sees this. I love it!
Stephen Grinstead
THANK YOU ADVERSITY FOR YET ANOTHER TEST: A Body Mind Spirit Approach For Relieving Chronic Pain Suffering – POWERFUL SOLUTIONS For Transforming Adversity Into Hope & Healing
---
The trailer is very good. I'm impressed. Thank you!!!
Stephen Moore
JOHN DUFFEY'S BLUEGRASS LIFE: Featuring The Country Gentlemen, Seldom Scene, and Washington, D.C.
---
I think it's brilliant. Consider it approved, and thanks very much for putting it together.
David Burt
Suppliers to the Confederacy – Volume Four: From Brass Pins Pistols Swords to Warships – COMING SOON!
---
Really cool! 
AlfonZo Rachel
---
It is REALLY, REALLY NICE!!!!!!! I approve!!!!
Alan Currie
MODE ONE: Let The Women Know What You're REALLY Thinking
---
THE FINE PRINT
By ordering BookLocker's Book Trailer Service, you acknowledge and agree to the following:
You will own all rights to your book trailer provided it has been paid for in full.
You are legally liable for all content in the book trailer (libel, defamation invasion of privacy, copyrights, etc.) with regards to text and graphics you provide to us (you are not required to provide any graphics if you want us to use our agency connection). Please ensure you have permission to use any photos you will be sending to us if you opt to not use stock images or stock videos.
Booklocker uses a stock photo and stock video agency so you do not need to be concerned about copyright issues with regards to the images and videos we choose from that firm for your book trailer.
Book trailers containing erotica or other offensive images/videos may be banned by social media platforms and even YouTube. You could even lose your social media account so, if your book is offensive or adult-oriented, check each site's guidelines before posting.
While we post book trailers to YouTube (with the exception of adult-oriented or potentially offensive ones), we can't guarantee that a third-party website will keep a specific video online indefinitely, nor that they will accept every video submitted.
---