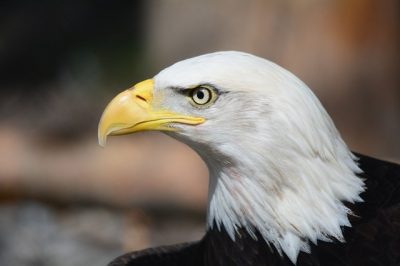 10% Off These Titles Written by Veterans – Use Discount Code "PATRIOT10"
The U.S. Veteran's Administration has estimated that only 7.4% of Americans have ever served in the military. Even fewer have earned the distinction of "combat veteran" – having answered the call to actually go to a place where other human beings actively try to kill Americans. These men and women have experiences that the vast majority of the U.S. population will never know. Although these brave people would never call themselves "heroes," their stories are priceless testimonies to those who did not return.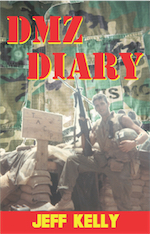 DMZ Diary: A Combat Marine's Vietnam Memoir – Jeff Kelly 
Ebook $8.99
Paperback  $16.95
The Vietnam War's hottest year was 1968, and the demilitarized zone (DMZ) was its hottest spot. Battalions on each side stalked the DMZ's mean hills seeking contact. In this memoir the author tells of the war "up north" on the border between North and South Vietnam. There the combat was large-scale and marked by conventional battles fought by disciplined troops on both sides, each supported by heavy artillery and tanks.
---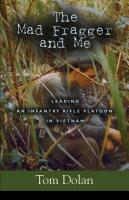 THE MAD FRAGGER AND ME: Leading an Infantry Rifle Platoon in Vietnam – SECOND EDITION – Thomas Dolan
Ebook $4.99
Paperback $18.95
Former 1st Lieutenant Tom Dolan takes the reader on a vivid armchair tour of sometimes grueling 1969 Army training. He includes numerous character sketches and anecdotes, with an emphasis on the leadership insights provided by his military mentors and his own related epiphanies. This literary journey continues as an always articulate, occasionally poignant, sometimes graphically violent and often humorous account of the grunts in the self-proclaimed "Famous Second Platoon", who struggled to dominate the Quang Ngai Province units of the North Vietnamese Army in 1971.
---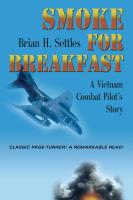 SMOKE FOR BREAKFAST: A Vietnam Combat Pilot's Story – Brian Settles
Ebook $5.99
Paperback $18.95
Smoke for Breakfast: A Vietnam Combat Pilot's Story is a unique literary excursion into the private world of former airline Captain Brian Settles who flew almost 200 missions as a Vietnam combat pilot in the F-4 Phantom fighter jet. Written in the poetic language of a true wordsmith, the author invites the reader into his guts and glory world, the culture of bravery, combat flying, and what it took to endure.
---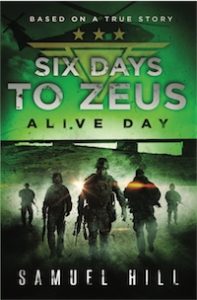 Six Days to Zeus: Alive Day – Samuel Hill
Ebook $5.99
Paperback $19.95
Samuel Hill is a pen name. The Author's true identity is by law, and subject to non-disclosure agreements, classified until 2085. The author served from March 1976 to July 2006 including both enlisted and officer time. Hill was cited as the Intelligence and Security Command, Commander's Trophy for Operational Intelligence Achievement (1st Runner Up) after only three years in service, for operational Intelligence 110 miles behind the Iron Curtain during the Cold War.
Six Days to Zeus: Alive Today is a fictional account of a real soldier's life. It is dedicated to the men and women who work in the shadows to prosecute U.S. Foreign Policy with a  ferocious level of intent.
---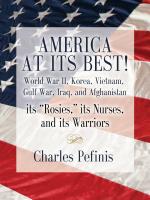 AMERICA AT ITS BEST! World War II, Korea, Vietnam, Gulf War, Iraq, and Afghanistan its "Rosies", its Nurses, and its Warriors – Charles Pefinis
Paperback $27.95
Amazing, fascinating,unbelievable stories and events, as described by the persons who actually lived them. Here are examples:My buddies during WWII,George H.W. Bush, John Glenn, Ted Williams, Tyrone Power, Ed McMahon, Jerry Coleman, Admiral Sidney McCain, Senator John McCain's grandfather!
---

Facing The Wall: An Infantryman's Post-Vietnam Memoir – Phil Ferrazano
Ebook $6.95
Paperback $16.95
In 1988, Phil Ferrazano's visit to the Vietnam Veteran's Memorial to honor his comrades of the 9th Infantry Division triggered a flood of repressed emotions and post-traumatic stress disorder with devastating results. He would spend the next ten years confronting his own anger, guilt and grief while battling the VA for the compensation and recognition he deserved.
---

My Vietnam Conflicts – Paul Letourneau
Paperback $14.95
Hardcover $26.95
My Vietnam Conflicts is "Blunt, moving, powerful". Reads like a novel. Letourneau captures his Vietnam experiences and the fighting soldier's culture in the toughest kind of war. A valuable contribution to military history, his award winning book deserves a large audience.
---

 Vietnam Vignettes – Tales of an Infantryman – Lee Basnar
Ebook $8.95
Writing with the clarity of a seasoned journalist and with the insight of a soldier who came up through the ranks, Lee Basnar describes the war's horrific impact on Vietnamese peasants, and details his soldiers' daily struggle to survive. He presents a new perspective on what it meant to be an infantryman in the longest war in our nation's history.
---

  Messages from Babylon – Michael Whitehead
Ebook $2.99
Paperback $16.95
Messages from Babylon is a diary of life in a combat zone, and provides an insider's story of Colonel Whitehead's experiences with the Marines, the Coalition Provisional Authority and the twenty eight nation Multinational Division that replaced the Marines at Camp Babylon. His descriptions of the long, grueling summer, a trip to Warsaw, Poland, and a visit to the Iraq-Iranian border are entertaining and enlightening, providing a unique perspective that heretofore has not been provided by media accounts of the war.
---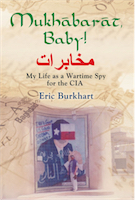 Mukhabarat, Baby! My Life as a Wartime Spy for the CIA– Eric Burkhart
Ebook $9.99
Paperback $16.95
Hardcover $28.90
This is the story of a young American who would eventually fulfill his dream of becoming a CIA Case Officer, only to have a promising career cut short after having been purposely poisoned by a contact. The book includes details of both the lengthy hiring process and the training process, including Burkhart's eventual successful completion of the Espionage Course taught at the famous "Farm". Burkhart's first overseas working experience was in war-torn Kosovo, where he was unwittingly poisoned by an unstable intelligence contact. Burkhart would struggle with the repercussions of this episode for the remainder of his career, and eventually be obliged to accept full medical retirement from the CIA.
---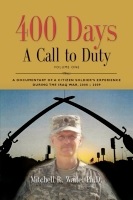 400 Days – A Call To Duty Volume 1 – Mitchell Waite
Ebook $17.95
Paperback $20.95
Hardcover $35.95
This book is a documentary of duty and sacrifice for LTC Waite, his family, and his fire department. It is a story of a citizen-soldier that LTC Waite wants to share with the American people so they can better appreciate the sacrifices that our brave men and women in uniform must go through in times of war.
This book is not written in military or politico-speak. It is written so anyone, even if you have never been in the military, can easily read it and better understand the sacrifices our troops must go through in periods of war.