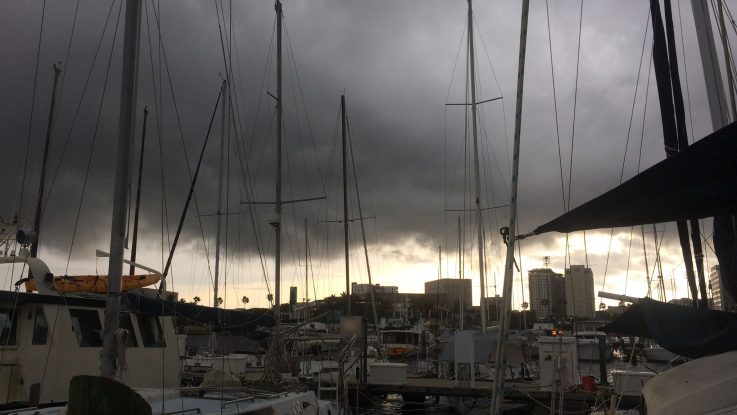 06/27/18 UPDATE: The returning author setup fee sale (details are below) has been extended through Friday. Some authors thought their manuscript had to be completely ready before they could sign up but that's not the case. You can sign up now and submit your manuscript when it's ready. 🙂
CONTENTS
News from the Floating Home Office
Returning Author Setup Fee Special!

Save $50!!

Do you have a book trailer online? We'd like to link to it on BookLocker!
Do you need just covers of your book(s) for marketing purposes? Our printer can provide those for you!
Publishers are Biting the Dust Left and Right but BookLocker is Still Going Strong! Here's Why!
More Publishing Goodies from Recent Issues of WritersWeekly
Frequently requested links
---
1. NEWS FROM THE FLOATING HOME OFFICE
Greetings fellow authors and friends!
We are all geared up for hurricane season here in the floating home office! We are fully insured, have a satellite office in downtown St. Petersburg (on the 2nd floor!), and our servers are safely located in Virginia (a primary one, along with a back-up in a completely different location!). We also keep back-ups of all our laptops on dry land. So, you never need to worry about us disappearing if we get a really, really big blow. We survived Hurricane Irma last year without a scratch (though our nerves were pretty rattled!).
It's the rainy season here on the west coast of Florida. The picture featured above this newsletter was taken an hour ago. No Tan Lines is rocking all over the place in this big blow and we're having a blast! 🙂
---
2. RETURNING AUTHOR SPECIAL SETUP FEE SALE! – ENDS WEDNESDAY – 06/27/18
Save $50 on our already low returning author setup fees!
PAPERBACK: Pay $218 instead of $268! (Note: If you need cover design, add $250.)
HARDCOVER: Pay $238 instead of $288! (Note: If you need cover design, add $350.)
PAPERBACK/HARDCOVER COMBO: Pay $360 instead of $410 (Note: If you need cover design for both formats, add $600.)
Since you're already part of the family, there is no need to go through the formal submission process.
To get the special price, Step-1 for returning authors (to get the sale) is here:
https://secure.booklocker.com/booklocker/returning-authors/intro.php
The Fine Print: The prices above are for black-and-white interior books but we'll give you $50 off color-interior setup as well. Those always require a quote so contact us through your author account if you need that:
https://secure.booklocker.com/authors/login.php
IF YOU NEED COPIES OF YOUR CURRENT BOOK(S), THE AUTHOR ORDER FORM IS HERE: https://secure.booklocker.com/booklocker/book/book-order.html
---
3. DO YOU HAVE A BOOK TRAILER ONLINE? WE'D LIKE TO LINK TO IT ON BOOKLOCKER!
Do you have a book trailer on YouTube? If so, did you know we can feature that on BookLocker.com for you? All we need is the YouTube link. You can send that to us through your author account here:
https://secure.booklocker.com/authors/login.php
---
4. DO YOU NEED JUST COVERS of YOUR BOOK(S) FOR MARKETING PURPOSES? OUR PRINTER CAN SEND YOU SOME!
You can purchase just covers for $3.00 each plus shipping. For a quote, holler at me through your author account here: https://secure.booklocker.com/authors/login.php
---
5. PUBLISHERS ARE BITING THE DUST LEFT AND RIGHT BUT BOOKLOCKER IS STILL GOING STRONG! HERE'S WHY!
Our competitors are going belly-up one after another but rest assured that BookLocker is still going strong! We have tight belts and we pass our savings on to our authors. Did you know that BookLocker is debt-free? Yes, we are! Not many of our competitors can say the same! On a personal note, we live a minimalist lifestyle. In a nutshell, that means we don't buy a bunch of "stuff" that we don't really need…things that would ultimately end up in drawers and closets. And, we can't because our floating home has very few drawers, and teensy tiny closets!
Unfortunately, many of our defunct competitors had big investors, got too big for their britches, and then had overhead expenses they couldn't afford when competition increased. (We refused all investment offers over the years because we didn't want big-wig suits telling us how to run OUR business!)
You can read about 23 publishers that went belly-up, and why, RIGHT HERE.
---
6. MORE PUBLISHING GOODIES FROM RECENT ISSUES OF WRITERSWEEKLY
AUTHORS, PLEASE DO THE MATH! How Much Does it REALLY Cost to Sell to Bookstores?
"My novel features real politicians. Since they're public figures, I can't be sued, right?" YES, YOU CAN GET SUED!
17-Year-Old Author Falls Victim to Green Ivy Publishing, Yet Another Defunct Publisher 
BookLocker Author Det. Richard Shelby's Relentless Pursuit of the East Area Rapist Has Finally Paid Off with An Arrest!
"Can Archive.org legally scan and then post my book online since they call themselves a 'library?'" NO!!!
What?! New Authors Are Being Solicited by "Free" Publishers? How to Avoid This Common Scam…
When Authors Don't Understand Copyright Law, the Law Might Come After THEM!
---
7. FREQUENTLY REQUESTED LINKS
AUTHOR ORDER FORM (for copies at your author discount) 
ORDER FORM FOR INTERIOR AND/OR COVER CHANGES/EDITS
READY TO PUBLISH YOUR NEXT BOOK? AS A RETURNING AUTHOR, YOU QUALIFY FOR *BIG* DISCOUNTS FROM BOOKLOCKER!
ATTN: PRINT-ONLY AUTHORS – ADD AN EBOOK EDITION OF YOUR BOOK HERE
ATTN: EBOOK-ONLY AUTHORS – ADD A PRINT EDITION FOR YOUR BOOK HERE
READ WEEKLY PERSONAL STORIES FROM BOOKLOCKER.'S "FLOATING HOME OFFICE"
Supplement your writing income! SUBSCRIBE TO WRITERSWEEKLY! It's FREE!
---
We gotta get back to watching the sky now. It's gonna be a bumpy night!
Hugs from the whole crew!
Angela, Richard, Brian, Ali, Rosana, Todd, Gwen, and the rest of the gang