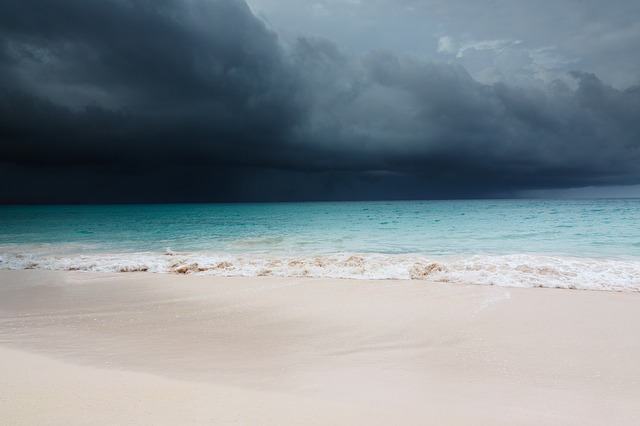 Howdy everybody!
Ooooh, it's an exciting week here at the "home office!"! 😉
CONTENTS:
1. Hurricane Matthew Update
2. Another Hurricane Sale on Author Copies! Yea!
3. Need to Make Changes to Your Book? Post Print Galley Revisions ALSO ON SALE. Only $125 THIS WEEK.
4. Commissions will be paid out this Friday
5. Newly posted Paying Markets for Writers
6. How BookLocker Has Remained Profitable for 17 Years…when so many others have failed
7. And, More Goodies!
---
1. HURRICANE MATTHEW UPDATE
Yesterday, we thought we were going to escape the effects of Hurricane Matthew. But, since Matthew is now wavering, just to be safe, we have implemented our hurricane preparation plans. To assure you that it will be business as usual on the website, we
want to let you all know that:
1. We have two identical (mirrored) servers located in different places. And, neither one of them is in Florida. If one conks out, the other one kicks in. The website will not go down from this hurricane.
2. We have four different ways to access the Internet from the "home office" here in Florida. Yes, it's expensive to have four different services but it's worth it in times like these. We've had back-up services for several years.
3. The "home office" is now on the 18th floor of a beautiful building overlooking Tampa Bay. It's a brand new "hurricane proof" building. Yeah, I know that sounds like a ballsy guarantee by the builder (remember, the Titanic was "unsinkable") but we've already had a tropical storm and a Category 1 hurricane here this summer and, when the doors are closed, you can't even tell it's blowing like crazy outside. In fact, even when it's pouring down rain, you can't hear it. You can, however, hear very loud thunder. And, unless we have a tidal wave at some point in the future, it's NOT going to flood on the 18th floor.
4. Our Operations Manager, Brian, who lives on a boat just a couple of blocks from here has already added extra lines to his vessel, and has removed essential items. If they predict we'll have hurricane-force winds on this coast, he'll do additional preparations. For now, his "home" is safe. They're already telling us to prepare for tropical storm-force winds.
5. We have PLENTY of easy-to-heat/eat food and several gallons of water here.
6. The building has a generator and we have one of our own as well.
7. And, most importantly, if we lose power for a period of time, we won't melt and we won't get devoured by bugs. We get an amazing (cooling) breeze up here from Tampa Bay and, oddly enough, since we moved here in June, the mosquitoes and no-see-ums haven't yet found us. We never get bit on our patio!
We are hoping all of this preparation will have been for naught but we wanted to assure all of you that we're prepared, and that the site is not going to go down.
If, per chance, that naughty Matthew takes a turn for the Gulf of Mexico, and if it then turns towards us, we will, of course, evacuate, and we have a written plan for that as well.
If it heads up Florida's East Coast, as it's currently predicted to do, we're safer here than we would be driving inland because the winds will be worse there than they are here.
Our adult children are located in Bradenton and Sarasota and they all have hurricane preparedness and evacuation plans as well but they live in homes, not high-rises. Ali and her husband, Justin, live in a Class-AE flood zone. Many streets there and in Sarasota are prone to bad flooding. Worst case scenario – they all come here and we have a huge, prolonged slumber party! 😉
---
2. WE CAN'T RESIST HAVING ANOTHER HURRICANE SALE!
Discounts increase at 50, 100 **AND** 200+ copies!
Authors love these sales because the savings can be significant – up to several hundred dollars. For example, 200 copies of a
250-page black-and-white interior paperback are only $6.56 each, down from the regular price of $7.72 each. That's a $232 savings on your order!
Lower quantity discounts are available, too.
The author order form is HERE.
***NOW THROUGH SUNDAY NIGHT ONLY.***
~~THIS SALE WILL END AT MIDNIGHT ON SUNDAY NIGHT, OCT. 9TH.~~
ALL BOOKS SHORTER THAN 700 PAGES
Additional 8% off 50-99 copies OR
Additional 10% off 100+ copies OR
Additional 15% off 200+ copies!
ALL BOOKS 700+ PAGES
Additional 4% off 50-99 copies OR
Additional 6% off 100+ copies OR
Additional 10% off 200+ copies!
The discounts above are IN ADDITION to your regular author discounts!
The author order form is HERE.
(There is a link to the author discounts charts on that page.)
THE FINE PRINT:
Valid for a single title/ISBN only, in the quantities listed above, going to one address. We can't combine multiple titles to
reach the quantity thresholds listed above for this special. However, you can, of course, order 50+, 100+ or 200+ copies of
each of your titles if you want. Shipping will be combined on these whenever possible.
This sale is for a limited time only. The discount applies to the cost of the books (does not apply to shipping/handling). Your
discount will be given automatically when your order is processed.
Rush and expedited printing options, as well as expedited shipping available at an additional charge. See order form at the
link above for details.
Specials may not be combined. If more than one special applies to your order, we will apply the one that provides the most cost
savings to you.
The author order form is HERE.
~~~~~~~~~~~~~~~~~~~~~~~~~~~~~~~~~~~~~~~~
~~~~~~~~~~~~~~~~~~~~~~~~~~~~~~~~~~~~~~~~
3. NEED TO MAKE CHANGES TO YOUR BOOK? Post Print Galley Revisions ALSO ON SALE. Only $125! (Black-and-White-Interior books only)
The printer is having a sale on processing revision files so we're passing the savings along to all of you.
If you'd like to make updates to your print book, do it NOW for only $125!
The Fine Print:
1. This sale is only valid for black-and-white-interior books
2. Please order the revision service at THIS LINK.
3. After we receive your order, we will send you your most recent MSWord file to make changes. Please do NOT work on an old file. All revisions must be made to the most recent MSWord file. If you submit an older file, we will need to charge $199 instead of $125 because additional work will be required.
4. The printer's special is for a limited time only. We must receive your revised file back here by October 20th. If you can't get the file back to us by that date and/or if delays on your end lead to us uploading the new file to the printer after October 25th (we need time after the 20th for pdf conversion and for sending that to you for approval), the price for the revision will increase to $199.
Sign up HERE.
~~~~~~~~~~~~~~~~~~~~~~~~~~~~~~~~~~~~~~~~
~~~~~~~~~~~~~~~~~~~~~~~~~~~~~~~~~~~~~~~~
4. COMMISSIONS WILL BE PAID OUT THIS FRIDAY VIA PAYPAL
Per the contract:
– Commissions are paid on the fifth business day of the month to U.S.- citizen authors whose unpaid commissions were $40 or more on the last day of the previous month.
– Commissions are paid on the fifth business day of the month to non-U.S.-citizen authors whose unpaid commissions were $100 or more on the last day of the previous month.
If you haven't yet sent us your PayPal ID, please do that today using this form.
~~~~~~~~~~~~~~~~~~~~~~~~~~~~~~~~~~~~~~~~
~~~~~~~~~~~~~~~~~~~~~~~~~~~~~~~~~~~~~~~~
5. SEE RECENTLY-POSTED PAYING MARKETS FOR WRITERS AND PHOTOGRAPHERS HERE:
http://writersweekly.com/category/paying-markets
You can also search the markets for specific words and phrases that complement your writing interests.
To receive notifications of new markets posted each week, subscribe to WritersWeekly.com here: http://writersweekly.com
Here is a list of RECENT MARKETS WE'VE POSTED:
Journal of Information Ethics
Pays $25-$50
Journal of Clinical Outcomes Management
Pays $100
Indian Life
Pays $0.15/word
Humanities
Pays flat fee that varies with department.
Fine Books & Collections
Pays $0.20/word
Dakotafire Media
Pays $50-$150
Ft Myers Magazine
Pays $0.10/word
Write Naked
Pays $50-$200
The Writer's Arena
Pays $20
Tricycle: The Buddhist Review
Pays $0.30/word
AND MANY MORE!
To see these and MANY more paying markets for writers, click here:
http://writersweekly.com/category/paying-markets
---
6. HOW BOOKLOCKER HAS REMAINED PROFITABLE FOR 17 YEARS…when so many others have failed
Over the past few years, many publishers, including those that were decades old, have closed their doors. We recently received the following email from an author:
Hi Angela,
I currently have my book published through (a 70-year-old publishing house) but they have fallen off the face of the earth. My co-author and I have received no money at all from our sales, and have had no contact with them for over a year now.
If I move my book to you, is there a possibility that I will never hear from you again…
READ THE REST HERE OF THE STORY:
http://writersweekly.com/angela-desk/booklocker-remained-profitable
---
7. AND, MORE GOODIES!
THE WRITERSWEEKLY WINTER, 2017 24-HOUR SHORT IS OPEN FOR REGISTRATION!
1st place: $300
2nd place: $250
3rd place: $200
+ 85 other prizes!
Lots of BookLocker authors participate and it's tons of fun! The fall contest always has a crispy, cool theme and it's our favorite each year!
In case you're not familiar with our quarterly contest, this is how it works. On the date of the contest, at start-time, we send out the topic for that specific contest to all registered entrants, while also posting it on WritersWeekly.com.
Entrants must be registered before the contest begins and there is a limit of 500 participants per contest. Entrants then have 24 hours to write and submit their stories via email. The stories "must deal with the topic in some way to qualify" and they must not exceed the pre-assigned word count, which is announced with the topic.
TO ENTER THE CONTEST TODAY:
http://24hourshortstorycontest.com/
List of ALL PAST TOPICS and WINNERS of the WritersWeekly Quarterly 24-Hour Short Story Contest is HERE.
14 Tips To Give Yourself A Leg Up In Writing Contests!
---
CHRISTMAS BOOK SALES – Avoiding Printer Backlogs
As many of you remember, our printer (who is the largest P.O.D. printer in the world, with four facilities in the U.S., and facilities on two other continents) experienced a backlog last Christmas. Even rush and expedited orders were getting backed up. We and our authors were very upset.
We recently contacted them to ask what they've done to prevent this problem from occurring once again. We haven't yet received a response.
The good news is a warming economy means good book sales.
The bad news is…good book sales can lead to printer backlogs.
Please keep this in mind if you plan to order copies for holiday gifts, or if you have an event planned during the holiday shopping season. Whatever you do, DON'T wait until December to order books. 😉
The Author Order Form is here: 
https://secure.booklocker.com/booklocker/book/book-order.html
---
$20 REFERRAL FEES FOR BOOKLOCKER AUTHORS!
If your friend tells us you referred them when they sign up for our At Your Service Program (our most popular one!), you'll earn $20!
There's a box on the sign-up form where they can tell us who referred them.
Thank you sooooo much to all the authors who have done this since we initiated this fun thank-you program!!
---
MOST REQUESTED LINKS
AUTHOR ORDER FORM (for copies at your author discount) –
https://secure.booklocker.com/booklocker/book/book-order.html
ORDER FORM FOR INTERIOR AND/OR COVER CHANGES/EDITS –
https://secure.booklocker.com/mc/service-fees.php
READY TO PUBLISH YOUR NEXT BOOK? AS A RETURNING AUTHOR, YOU QUALIFY FOR *BIG* DISCOUNTS FROM BOOKLOCKER! –
https://secure.booklocker.com/booklocker/returning-authors/intro.php
ATTN: PRINT-ONLY AUTHORS – ADD AN EBOOK EDITION OF YOUR BOOK HERE –
https://secure.booklocker.com/booklocker/new/intro.php
ATTN: EBOOK-ONLY AUTHORS – ADD A PRINT EDITION FOR YOUR BOOK HERE –
https://secure.booklocker.com/booklocker/new/intro.php
READ WEEKLY PERSONAL STORIES FROM THE BOOKLOCKER.COM "HOME OFFICE" –
http://www.writersweekly.com/news_from_the_home_office/summary.html
SUBSCRIBE TO WRITERSWEEKLY –
http://www.writersweekly.com
PHOTOS AND INFO ABOUT BOOKLOCKER'S OWNERS AND EMPLOYEES
http://newsletter.booklocker.com/category/booklocker-team-members
---
**WE WANT TO "FOLLOW" AND "LIKE" YOU!**
ANGELA ON FACEBOOK
https://www.facebook.com/angela.hoy.750
BOOKLOCKER ON FACEBOOK
https://www.facebook.com/booklockerbooks
WRITERSWEEKLY ON FACEBOOK
https://www.facebook.com/writersweekly/
ANGELA ON LINKEDIN
https://www.linkedin.com/in/angelahoy
ANGELA ON TWITTER
https://twitter.com/AngelaHoy
ANGELA ON TUMBLR
http://angelahoy-writersweekly.tumblr.com/
ANGELA ON INSTAGRAM
https://www.instagram.com/writersweekly/
HAVE A SUPER EVENING, EVERYBODY!
-Angela, Richard, Brian, Mary, and the rest of the gang